One in 10 elders suffers from abuse in the United States. This data is recovered from an analysis conducted by the U.S. Commission on Civil Rights (USCCR).
New Mexico is home to more than 430,000 elders from diverse backgrounds and cultures. Several local and federal laws are established to protect elders from mistreatment from caregivers, family members, and nursing home facilities.
Unfortunately, these statutes are not enough to stop the growing number of elder abuse cases. Some victims are too afraid to speak up about their experiences and would rather suffer in silence. This isolation is often attributed to confusion or a lack of a solid support system.
Here's where we can help you. Our Albuquerque nursing home abuse lawyer will advocate for your rights and speak up for you. We will help you build a compelling case to give you or your loved one the justice they deserve!
How Our Albuquerque Nursing Home Abuse Attorney Can Help You
Our Albuquerque nursing home abuse lawyers are seasoned professionals with extensive legal assistance experience. We assist family members and abused patients pursue their nursing home neglect cases.
Here's how our principal nursing home abuse lawyer can help you:
Case investigation. A background check is an essential first step in every personal injury case. Our nursing home abuse lawyer will thoroughly evaluate your case and the nursing home facility.
Evidence recovery. We will help you recover medical records, statements from staff members, and other viable proof to establish your claims.
Legal processes. The legal procedure in nursing home abuse cases is complicated. We will take care of the legal groundwork while you focus on making a full recovery.
Damage recovery. Similar to every other personal injury case, abuse victims are entitled to recover compensation for the injuries they suffered. Our Albuquerque nursing home abuse attorney will help you ensure that you receive a fair compensation value.
What Is Nursing Home Abuse?
Nursing home abuse is when a long-term facility patient suffers physical, mental, emotional, and financial abuse. The scope of this legal practice is broad, but it generally addresses elder mistreatment inside a long-term care institution.
A nursing facility is a medical institution that provides residential care for elders and disabled individuals. Nursing home employees must ensure that all patients receive optimal care and safety.
Unfortunately, some nursing home residents are suffering from nursing home abuse. Nursing home abuse cases became so prevalent the law had to establish a new sector solely dedicated to addressing nursing home abuse.
Various types of nursing home abuse cases are reported in the country. One of the most commonly documented is physical elder abuse. The report showed that physical elder abuse accounts for most nursing home abuse cases in recently released statistics.
Several factors such as substandard nursing homes, isolation, and insufficient floor space contribute to the recurrence of elder abuse. Furthermore, nursing homes with a history of abuse tend to repeat inappropriate practices.
New Mexico Nursing Home Abuse Facts
In a 2018 report, ProPublica named New Mexico the worst nursing facility provider in the entire country. 36 out of 74 Medicare and Medicaid nursing facilities were identified to have serious deficiencies.
Furthermore, the state also reported 2,217 infraction cases ranging from a minor failure to notify a family member to resident abuse and neglect from staff members.
The organization Nursing Home Abuse Justice published a compilation of national statistics and facts about nursing home abuse cases in the nation.
In the organization's statistics, they identified risk factors that affect a victim's likelihood of suffering from abuse in a residential home:
Gender. Female nursing home patients are more likely to experience abuse than their male counterparts. Almost 66% of total abused residents are female.
Socioeconomic status. Some researchers suggest a correlation between residents from low-income families and nursing home abuse. According to these researchers, residents who rely on Medicaid are more likely to stay in a substandard nursing facility.
Past trauma. The NCEA or National Center for Elder Abuse states that victims of mistreatment are more likely to suffer from a similar situation in the future.
Overall health condition. The NCEA also noted that almost half of elder abuse victims suffer from pre-existing conditions (i.e., Alzheimer's disease and dementia).
If you suspect nursing home abuse in Albuquerque, New Mexico, contact our Albuquerque nursing home abuse attorneys at Will Ferguson & Associates.
We know how dangerous this situation can be and will work tirelessly to ensure that those responsible are held accountable.
Types of Nursing Home Abuse and Neglect In Albuquerque, NM
Nursing home residents are in great danger of experiencing different types of nursing home abuse. Although physical abuse is the most common, other types of elder abuse exist. The resident's family members must be keen on the different signs of abuse.
Physical Elder Abuse
One of the most frequently reported nursing home abuse is physical abuse. Physical abuse occurs when a nursing home resident suffers physical harm from a nursing home staff member. This type of abuse can be intentional or unintentional.
Some most common physical injuries suffered by an elderly resident are caused by hitting, punching, hair pulling, and kicking.
The victim of physical abuse often shows visible injuries such as bruising, lacerations, and broken bones. A thorough medical examination is needed to confirm the abuse in some cases.
Sexual Elder Abuse
Sexual assault is another type of abuse commonly seen in nursing homes. This type of abuse usually involves a staff member or other resident exploiting a vulnerable nursing home resident for their gratification.
Sexual abuse can include everything from unwanted touching and kissing to rape and sodomy. Often, victims of physical or sexual abuse feel ashamed to report the incident. They may also feel like they are to blame for the abuse.
If you suspect that your loved one is being sexually abused in a nursing home, it is crucial to speak up. Do not hesitate to contact the authorities or an Albuquerque nursing home abuse lawyer.
Financial Exploitation of the Elderly
Financial exploitation is a type of abuse that often goes unreported. This type of abuse usually occurs when a nursing home resident is taken advantage of financially by a staff member or another resident.
The abuser may try to coerce the elderly resident into giving them their money, jewelry, or other valuable possessions. They may also try to get the resident to sign valuable legal documents.
If you suspect that your loved one is facing financial abuse in a nursing home, it is vital to speak up. Contact the authorities or an experienced nursing home abuse attorney right away.
Emotional Elder Abuse
Emotional abuse is another commonly documented abuse inside a nursing home. Unfortunately, emotional abuse is not easy to detect. This type of mistreatment can involve anything from verbal insults to more subtle forms of manipulation.
Emotional abuse is often more challenging to identify than physical or sexual abuse. The abuser may not leave any physical evidence behind. However, the emotional scars can be just as damaging as any other type of abuse.
Psychological Abuse of the Elderly
Psychological or mental abuse is a type of mistreatment that often goes unreported. This type of abuse usually occurs when a nursing home resident is taken advantage of psychologically by a staff member or another resident.
The abuser may try to manipulate the elderly or disabled resident into doing things they don't want to do. Manipulative staff members often use 'gaslighting' techniques to do this.
Common Signs of Nursing Home Abuse or Neglect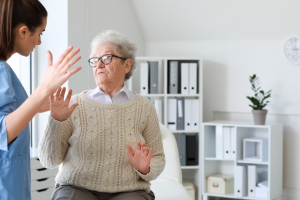 Some signs of nursing home abuse are easy to miss, and some are evident. You must keep an eye out for these obvious signs of abuse to protect your loved ones against nursing home mistreatment.
Malnutrition. Rapid weight loss is one of the most common signs of nursing home mistreatment. If your loved one suffers from a drastic losing weight, it could indicate that they are not getting enough food to eat at the nursing home.
Physical injuries. Unexplained cuts, bruises, or burn marks could signify that your loved one is the victim of physical abuse. It would be best to keep a sharp eye to notice these signs.
Unexplained bruising. If you're noticing a lot of new bruising on your loved one's body, you must ask them about it. Take note if they're having reluctance or avoiding the question. Often, this is an indication of mistreatment.
Sudden change in behavior. Mental anguish often causes a behavior change. If your family member is acting out of sorts, it could be due to psychological or emotional abuse suffered inside the nursing home.
Sleep troubles. Sleep deprivation is a common sign of nursing home mistreatment. An evident warning sign of lack of sleep is dark circles building under the victim's eyes.
Signs of anxiety or depression. If your loved one starts to exhibit symptoms of anxiety or depression, it could be due to emotional abuse or psychological manipulation. Counseling is often a must for the victim to overcome these conditions and start feeling better again.
Albuquerque nursing home abuse attorneys are proficient legal professionals who can help you file a lawsuit against the nursing home that abused your loved one. Whether you need to file a claim for physical abuse, emotional abuse, or financial exploitation, they can help.
Liabilities in An Albuquerque Nursing Home Neglect and Abuse Case in New Mexico
In nursing home abuse cases, the victim can hold several parties liable for the mistreatment. The responsible party is identified through a thorough case investigation and background check. In New Mexico, here are the possible accountable parties:
Nursing home staff members. Nursing home staff members are usually the ones with the most direct interaction with the residents. This proximity with the patient makes them the prime suspect in most cases.
Long-term care provider. In nursing home abuse cases, the long-term care provider or the medical doctor is another liable party. Next to the staff members, the medical doctors also spend significant time with the patients.
The facility itself. In some cases, the nursing home facility can be held liable for the actions of its employees. This is usually the case when the abuse results from the nursing home's negligence in hiring or inadequate training of staff members.
Frequent visitors of family members. In some cases, the abuser is not inside the facility. If the investigation shows that the mistreatment came from a regular visitor, the victim's family member can hold them accountable for the abuse.
Suing Those Responsible for Nursing Home Abuse And Neglect In New Mexico
Once you have identified and confirmed signs of abuse, you can initiate a nursing home abuse lawsuit against the responsible party. Depending on the circumstances, you can file a civil or a criminal case.
In a nutshell, here's what the entire civil lawsuit process would look like. Take note that the process outlined below assumes that you already have a nursing home neglect attorney working with you.
Case investigation and determination of damages
Drafting and submitting a demand letter
Filing and submitting a complaint against the responsible party
Trading discovery
Negotiating with the liable party
Settlement or trial phase
Albuquerque nursing home abuse attorneys can help make this long and complicated process more bearable. They can help you maximize your settlement, recover viable evidence, and hold the appropriate party liable for the incident,
Compensatory Damages You Can Recover in a Nursing Home Abuse Claim
There are no established recoverable damages for nursing home abuse claims in New Mexico. The value of your case varies depending on the facts recovered from your case. Generally, the court will base your damages on the following points:
What type of abuse did the victim suffer?
What treatments or therapy a victim needs to receive to recover fully?
How strong are the evidence against the defendant?
How complicated and severe are the victim's injuries?
Once your Albuquerque nursing home abuse lawyer can identify the basics of your case, they will start estimating your case value. Here are some of the most frequently recovered damages in nursing home cases.
Medical care expenses: This damage compensates the victim for all past and future medical care expenses related to the abuse. This includes ambulance fees, hospitalization costs, rehabilitative therapies, medication, and long-term care treatment.
Therapy and counseling expenses: This damage covers the costs of physical, emotional, and occupational therapy and counseling.
Repayment of stolen properties, assets, and money: In some nursing home abuse cases, the abuser would take the victim's money or possessions. This damage compensates for all the money and possessions that were unlawfully taken from the victim by the abuser.
Pain and suffering: This damage compensates the victim for all the physical pain and mental anguish that the incident caused.
Mental torment: This damage covers the emotional distress that the victim experiences because of the abuse.
Wrongful death: If the abuse caused your loved one's death, you could file a wrongful death claim that seeks to recover compensation for all the damages noted above.
Punitive damages: Punitive damages are only awarded in particular circumstances. This damage is meant to punish the abuser and discourage others from committing similar abuse acts.
How Nursing Home Abuse and Neglect is Proven
Presenting viable evidence is the most effective way to prove mistreatment in nursing home neglect cases. The burden of verifying claims of abuse falls on the victim's party.
An Albuquerque nursing home neglect lawyer can help you establish your case by securing evidence that would prove the following elements:
Duty of care. The nursing home resident's party needs to verify that there is a 'contract of care' between the resident and the nursing hospital.
Breach of duty. Once the relationship between the facility and the patient is established, the victim's party would need to prove that the institution failed to provide the patient with optimal care and safety.
Sustained damages. After confirming the breach, the victim's party must show that the patient suffered physical, emotional, or mental impairment because of the mistreatment.
Financial loss. Lastly, you must prove that your party sustained financial losses for the victim's treatment.
Statute of Limitations for Nursing Home Abuse in Albuquerque, NM
N.M. Stat. Ann. §37-1-8 states that victims or representatives of the victim may file a civil lawsuit against the institution, the institution's nurses, or caregivers within three years from the incident date.
In addition, N.M. Stat. Ann. §37-1-10 states that victim's who sustained incapacitating injuries are given an additional one year on top of the regular statute of limitations.
Hiring an Albuquerque nursing home neglect attorney as soon as possible is essential to ensure that your claim falls within the filing deadline. Once you miss the limitation of your case, the court can immediately dismiss your case.
Steps to Take if You Suspect Abuse in an Albuquerque Nursing Home
Once you have identified the warning signs of abuse, you need to pursue appropriate legal actions to hold the responsible party accountable for your family member's injuries. Here's how you can do that:
Report the incident. Suppose that a resident is in danger; you need to call 911 immediately. For reporting elder abuse cases, you can contact the Adult Protective Services Statewide Intake by calling 1-866-654-3219.
Contact the police. You can also report abuse and neglect cases to a law enforcement officer if the facility refuses to act against the mistreatment inside their facility.
Find a reliable and experienced lawyer. You must speak with a legal professional about the situation. Albuquerque nursing home neglect lawyers are legal specialists with a profound knowledge of the local laws related to nursing facility abuse cases.
Take the appropriate legal action. Once you find a reliable lawyer, they can help you file a personal injury claim. Furthermore, they will also help in recovering evidence and processing paperwork.
Why Choose Will Ferguson & Associates to Handle Your Albuquerque Nursing Home Abuse Claim
Will Ferguson & Associates is a law firm comprised of a successful team of personal injury lawyers. We have been advocating and protecting victims' rights since 1983. Here's why our personal injury attorneys at Will Ferguson & Associates are the perfect advisors to handle your case:
Proven track record. We have almost four decades of proven experience in plaintiff defense. Our attorneys will fight to the best of their abilities to help you win your case against the abusive defendant.
Esteemed team of lawyers. Our team of lawyers at Will Ferguson & Associates comprises national trial lawyers, former prosecutors, and multi-awarded attorneys.
Extensive years of legal expertise. With almost four decades of legal experience, our esteemed attorneys are highly proficient in the local court system. We are well-versed in the different aspects of personal injury law, especially abuse cases.
Plaintiff's advocates. Our entire legal team is dedicated to assisting plaintiffs in attaining their justice. We hold mock trials to help our clients present themselves before the court. This method significantly helped us win many personal injury cases.
Free consultations and contingency fee basis. We offer free case reviews to all our potential clients. In addition, you don't have to pay a retainer for our services. You only have to pay us once we win your case.
Nursing Home Neglect Lawyers Near Me | Contact Will Ferguson & Associates to Speak With an Albuquerque Nursing Home Abuse Attorney for a Free Consultation
Speaking up against abuse is not an easy task, especially for the victim. If your loved one is suffering from mistreatment in a nursing home facility in Albuquerque, NM, you need to speak with our Albuquerque nursing home lawyer right away.
Our attorneys are dedicated to pursuing justice and compensation that you or your loved one deserves.
Our personal injury law firm offers a free case review and contingency payment for all our clients. Call us now at 505-657-3351 or complete our contact form for a free consultation.