Albuquerque, NM (March 30, 2023) - At least one person sustained injuries following a vehicle collision in Albuquerque. 
At around 2:29 p.m., the accident was first reported at the corner of Madeira Drive and Bell Avenue. There were reported injuries at the scene, and those requiring further aid were later transferred to nearby hospitals for treatment.
No updates on the conditions of the crash victims have been provided. 
An ongoing investigation into the cause of the crash is in progress.
Our thoughts are with the injured victims and their families at this time. We hope for their full recovery.
Speeding-Related Collisions in New Mexico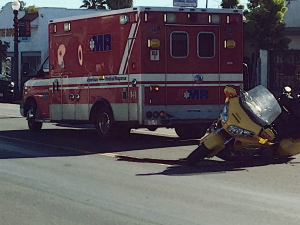 New Mexico has the highest annual rate of deadly speed-related traffic accidents, according to the most recent crash data available. Indeed, 37% of all fatal car accidents in the state are the result of speeding. With 115 fatalities from speeding in the state last year, New Mexico likewise has one of the highest rates of speed-related accidents in the country. Speak with an attorney to begin your personal injury claim if you were injured by a reckless driver. 
Insurance adjusters are in charge of handling claims from vehicle accident victims, but their main goal is to provide plaintiffs with the smallest possible financial settlement. Your profit margin will be decreased in every way if you solely rely on adjusters during the settlement stage. Those who do not have legal representation following a car accident in New Mexico or who are unsure of how much compensation they should receive will be vulnerable targets to these insurance representatives.
Many accident victims are prone to accepting the lowball offers made by overzealous insurance adjusters after filing a claim. Because insurance brokers have the propensity to settle claims for too little, it is never a good idea to handle your claim on your own. The insurance adjuster, however, is merely going about his or her regular business, while you might not be experienced in dealing with car crash cases. You should only ever give an insurance adjuster your New Mexico car accident lawyer's phone number to avoid being unfairly taken advantage of.
Every case we take on at Will Ferguson & Associates has our full attention, and our attorneys go above and beyond to provide the finest defense for New Mexicans injured in auto accidents. If you or someone you know has just been hurt in a car accident caused by a negligent driver, call our offices as soon as you can at (505) 243-5566 to set up a consultation. Our Albuquerque personal injury lawyers pledge to use every legal tactic at their disposal to help you recover just compensation for your losses while holding the negligent parties accountable. We promise to make every effort to promote a full recovery.